Thanks to its quality of hospitality and its facilities, the Giant Chasm of Cabrespine has received the following labelings.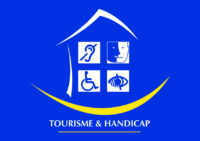 It is proof of the concrete commitment of the site, as well as the guarantee of an effective and adapted reception according to the handicap (hearing, mental, motor, visual).
Information: Due to the health crisis, a complete redevelopment of the site had to be carried out. Check out our dedicated page for more information.