A new concept : an underground acrobatic course, practicable in complete safety, accessible to the public from 12 years old and older ! In the program :
Ziplines
Monkey bridges
Nepalese bridges
Wall progression
Face the cliffs in our 80m high iron staircase. Then, follow the great flow of explorers, to reach the zipline of vertigo and then to finally reach the pearls platform thanks to the acrobatic bridge, located 40m above the void.
After the passage in the sanctuary of baths, a nepalese bridge will enable you to reach the bottom of the big arranged room of Cabrespine's Giant Chasm !
The bravest of our visitors will have the opportunity to experience the unforgettable hell's zipline, come to (and) fly 90 meters above the void, and set foot to uncover the 120m petrified waterfall.
When coming to the surface, you will come upon one of the hidden treasures of the Cabrespine's Giant Chasm : "The Hall of Wonders".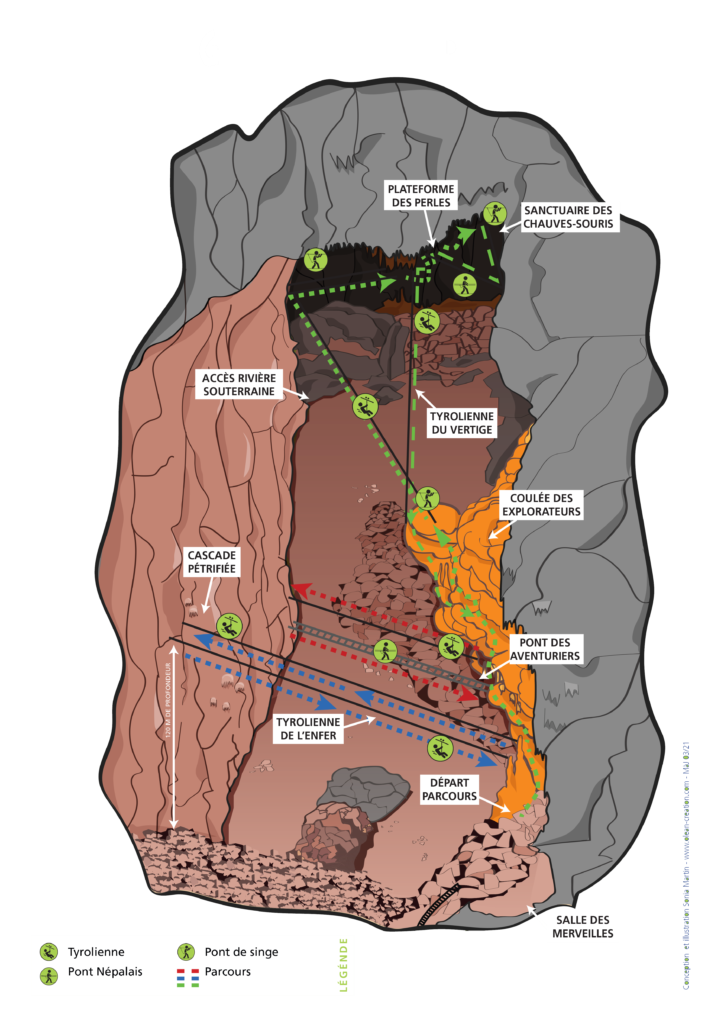 En raison de la situation sanitaire actuelle liée au Covid-19, des mesures spécifiques ont été mises en place :
– L'activité est ouverte aux personnes ne comportant aucun symptôme susceptible d'être identifié comme le Covid-19.
– Vous êtes accueillis sur le lieu de rendez-vous fixé par le guide, qui vous attend sur place avec un masque.
– Chaque participant doit se désinfecter les mains en arrivant sur le lieu de rendez-vous. Un gel hydroalcoolique est mis à disposition à cet effet.
– Les règles de distanciation de 1m sont obligatoires et appliquées tout au long de l'activité.
– Chaque participant doit se munir d'un masque. Des gants sont fournis.
– Les vêtements personnels sont stockés dans les véhicules des participants.
– Durant l'activité, le guide a à disposition du gel hydroalcoolique si nécessaire.
– Le matériel mis à disposition est désinfecté par lavage avec un bactéricide aux normes EN14476 après chaque séance, garantissant si présent la destruction du virus.