The lower part of the Giant Chasm of Cabrespine shelters nearly 25 km of galleries, a large part of which is crossed by a majestic underground river : the secret river. Come and follow the footsteps of the first explorers.
In the program :
Exploration of the concretion galleries
River navigation
Discovery of the underground environment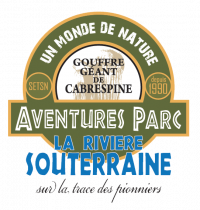 The underground safari is a great combination between the activities usually restricted to speleologists and the classic cave visit for the general public. Horizontal cavities, large volumes, magnificent crystallizations and an expedition atmosphere. In total almost 3 hours for a change of scenery that will enable you to discover the caves differently.
Come and live, a unique underground experience, unveil the secrets of Cabrespine's underground river accompanied by professional guides who will share with you their passion and knowledge of the underground world. You will be accompanied in a preserved universe, by a guide that has studied the caves for many years !